CREtech Announces New "CREtech Talk" Session On What Comes After Co-Working By Dror Poleg at Los Angeles Conference on March 27-28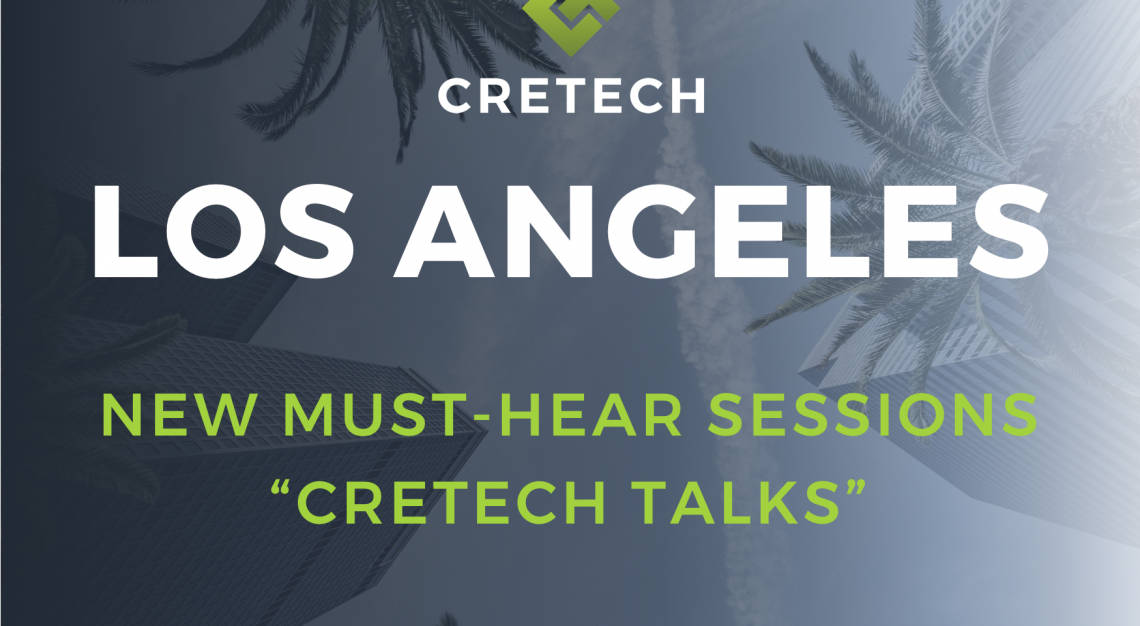 Rethinking Real Estate's Dror Poleg Will Present At The Largest Conference In Commercial Real Estate Tech Sector On The West Coast In 2019
New York, NY (February 6, 2019) — CREtech (cretech.com), the largest event, data and content platform covering the commercial real estate tech industry, announced a new session to be presented by Dror Poleg, Founder, Rethinking Real Estate. The session, "CREtech Talks: What Comes After Co-Working" will be available to all attendees of the upcoming conference in CREtech Los Angeles on March 27-28.
The new "CREtech Talks" are inspirational and informative 20-minute solo sessions presented at CREtech Los Angeles Conference, that shed light on new ideas, trends and leadership tips for the emerging commercial real estate tech sector. Poleg's presentation will dive into how the hottest trend in commercial real estate, Co-Working, is coming of age and according to him, running out of steam. This thought-provoking presentation will focus on what tenants are prioritizing in their workspaces today and how the leading landlords are responding.
Over two days, thousands of startups, entrepreneurs, investors and commercial real estate professionals from around the world will attend the CREtech Los Angeles Conference at the historic Shrine Expo Hall. All of the major tech trends in office, industrial, retail and multifamily including CoWorking, Data, A.I., ConTech and more will be discussed by those leading the tech revolution in commercial real estate.
Attendees will have the opportunity to set up one-to-one meetings during our speed dating breaks, hear from the most sought-after thought leaders and meet the leading startups, investors, developers/owners and brokers, not to mention have a great time during our evening receptions.
To purchase tickets, click here.
About Rethinking Real Estate
Dror Poleg is the founder of Rethinking.RE, where he advises real estate and technology clients on strategy and innovation. His clients include multibillion dollar companies such as British Land, Polimeks, Kardan, and Cushman & Wakefield as well as VC-backed ventures such as Breather, Carson, BumbleBee, and BuildingLink.
Over the past two decades, Dror took part in developing over 30 million sqf of commercial and residential space, oversaw the expansion of a $3 billion portfolio, and participated in hundreds of negotiations with some of the world's largest financial institutions, real estate operators, and retailers — including Blackrock, HSBC, PAG, Frasers, China Construction Bank, GIC, Zara, H&M, Uniqlo, and LVMH.
Dror's work draws on practical experience as well as on formal training at the London School of Economics, INSEAD, and Swinburne University of Technology. His insights have been featured in reports and events by KPMG, Urban Land Institute, JLL, PERE, NYU, Savills, Estates Gazette, and EPRA.
About CREtech
CREtech is the largest event, data and content platform in the commercial real estate tech industry. The platform features the most well attended conferences in the industry, hand selected daily news, the largest directory of tech startups serving the industry and respected market research.
CREtech is owned and operated by The News Funnel, the leading content, connectivity and event platform devoted to the commercial real estate industry.
Get tickets to an upcoming CREtech event or learn more about marketing and sponsorship opportunities by emailing anne@cretech.com.