CREtech Announces WeWork Leadership Team to Serve on Panel for LA Conference on March 27-28
Largest conference in commercial real estate tech attracts leading speakers for its LA conference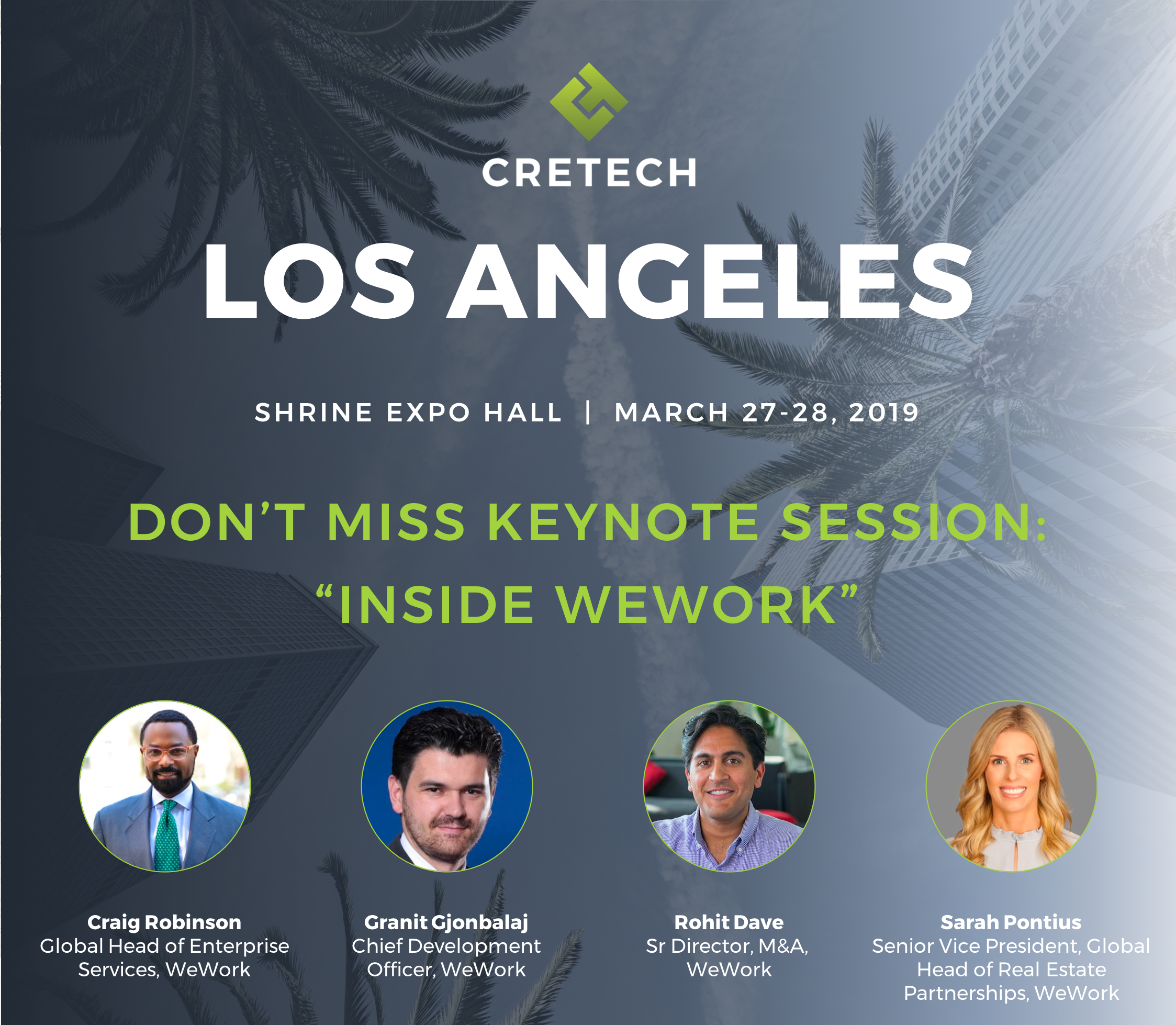 New York, NY (January 31, 2019) — CREtech (cretech.com), the largest event, data and content platform covering the commercial real estate tech industry, announces first keynote session for its upcoming conference in Los Angeles on March 27-28. The session, "Inside WeWork" will feature four of WeWork's (The We Company) top executives from their Real Estate Partnerships, Real Estate Development, M&A and Powered by We divisions to discuss how their company has made history impacting the commercial real estate industry.
Moderated by Michael Beckerman, CEO, CREtech, speakers will include:
Sarah Pontius

, Senior Vice President, Global Head of Real Estate Partnerships,

WeWork

Granit Gjonbalaj

, Chief Real Estate Development Officer,

WeWork

Rohit Dave

, Sr Director, M&A,

WeWork

Craig Robinson

, Global Head of Powered by We Services,

WeWork
No other startup has impacted the commercial real estate sector like WeWork. With a valuation over $40 billion, WeWork has completely transformed not only the tenant experience but the brokerage and development sectors as well. In this first of its kind panel, CREtech CEO, Michael Beckerman, will sit down with four of the company's top executives to learn how the company operates internally as well as its short and long term strategies.
Over two days, thousands of startups, entrepreneurs, investors and commercial real estate professionals from around the world will attend the CREtech Los Angeles Conference at the historic Shrine Expo Hall. All of the major tech trends in office, industrial, retail and multifamily including CoWorking, Data, A.I., ConTech and more will be discussed by those leading the tech revolution in commercial real estate.
Attendees will have the opportunity to set up one-to-one meetings during our speed dating breaks, hear from the most sought-after thought leaders and meet the leading startups, investors, developers/owners and brokers, not to mention have a great time during our evening receptions.
To purchase tickets, click here.
About CREtech
CREtech is the largest event, data and content platform in the commercial real estate tech industry. The platform features the most well attended trade shows in the industry, hand selected daily news, the largest directory of tech startups serving the industry and industry leading research.
CREtech is owned and operated by The News Funnel, the leading content, connectivity and event platform devoted to the commercial real estate industry.
Get tickets to an upcoming CREtech event or learn more about marketing and sponsorship opportunities by emailing anne@cretech.com.