Hugely Successful Inaugural CREtech Chicago Event with Over 250 Turnout on October 18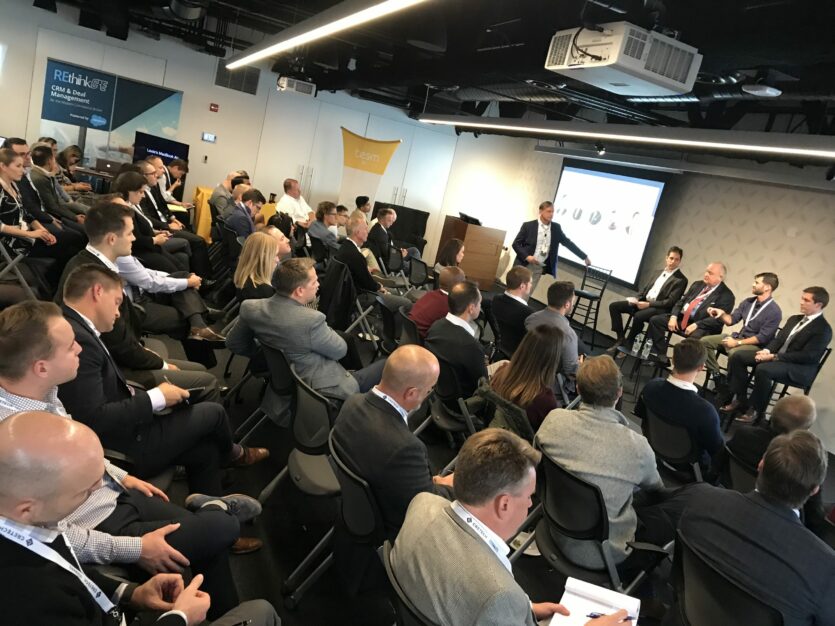 CREtech's first Chicago event attracted over 250 leaders in the commercial real estate tech industry
New York, NY (October 22, 2018) — CREtech (cretech.com), the leading event, content and connectivity platform for the commercial real estate industry, hosted its first Chicago event on October 18 at JLL Global HQ, The Aon Center, attracting over 250 professionals.
"We are thrilled at the extraordinary turnout at our first ever CREtech Chicago event," stated Lindsey Imperatore, Chief Marketing Officer. "The energy in the room, the caliber of the speakers and the talent of our tech exhibitors was truly amazing and we couldn't be prouder to have brought the CREtech movement to Chicago." Imperatore concluded.
The event was kicked off by Keynote Presenter, Steve Weikal, Head of Industry Relations, MIT Center for Real Estate with his speech, 'Innovation + Technology: New Pieces of the Real Estate Puzzle'. Weikal is recognized as the preeminent authority on all things commercial real estate tech. The world-class panel of leading landlords and investors followed with Bob Ageloff, International Director, JLL;Bob Six, COO, Zeller Realty Group; Brad Beile, COO, Sterling Bay; Ryan Salvas, VP Real Estate Tech and Innovation, EQ Office; and Michael Ellch, Vice President of Development, Related Midwest. Lastly, Pierce Neinken, founder of CREtech, hosted an exclusive interview with Craig Robinson, Global Head of Enterprise Services, WeWork.
Full panel videos and photos will be available on CREtech soon.
To attend our next CREtech event, please register here:
About CREtech
Our mission at CREtech is to connect the commercial real estate and tech sectors, bringing a new age of innovation, investment and growth to the industry. The platform features the largest events, most important daily newsletter, and the largest directory of startups and industry leading research. CREtech additionally provides Advisory Services to startups and commercial real estate developers/brokers.
CREtech is owned and operated by The News Funnel, the leading content, connectivity and event platform devoted to the commercial real estate industry.
To learn more about becoming a sponsor, attending upcoming events, or for other inquiries, please email cali@cretech.com.