In Case You Missed it, Read the Highlights from CREtech Talks: Emerging Trends in Construction Technology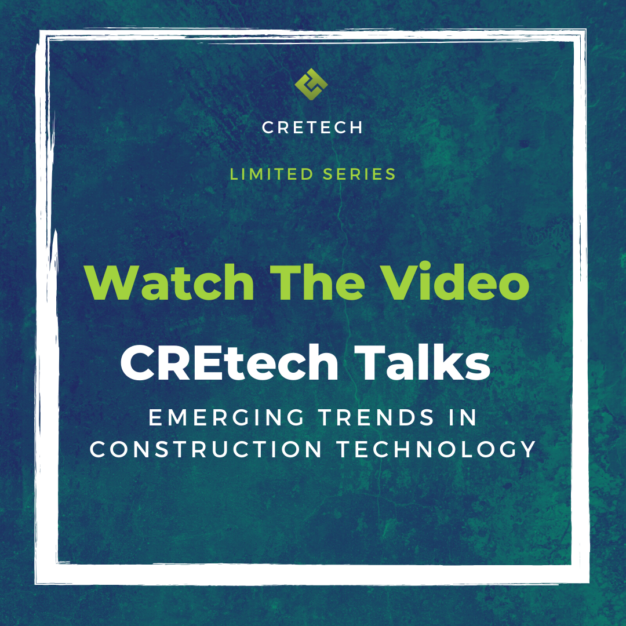 The construction tech sector has been on a rapid path of growth over the past several years. The biggest challenge the industry faces is adoption of new innovation and best practices. However, today's leaders are rethinking their path towards a more efficient tech first strategy and their willingness-to-adopt technology in construction is increasing.
In a recent CREtech Talks: Emerging Trends in Construction Technology, five of the most innovative leaders in construction real estate, Daniel Fetner of Corigin Ventures, Greg Gushee of Related Companies, Mark Accomando of Heartland Ventures, Jit Kee Chin of Suffolk Construction and Sungjoon Cho of D20 Capital discussed and shared their perspectives on the construction tech sector and how today's developers are leveraging technology to increase productivity and profitability. The session was hosted by Ashkan Zandieh, Chief Intelligence Officer and Global Head of Real Estate Tech Intelligence at CREtech.
One of the core takeaways was how new the innovation strategies and investment vehicles are in the construction technology sector.  Similar to real estate technology being a subsector of fintech in the early 2010's, before clearly being its own category today with over $30 Billion invested in 2019.  
However, from the perspective of a corporate venture capital (CVC) and strategics to early stage investing, the panel laid out the need to have and must haves of their investment strategies.
According to Sungjoon Cho of D20 Capital, investment strategies in construction tech varies by stage of investment and founder market fit.   "If you're investing at the seed stage, you can't really expect too much from customer tractions," according to Cho.  
Additionally, early stage investor, Mark Accomando of Heartland Ventures, added the adoption challenges that many companies in construction tech face. However Accomando believes that "finding something and designing something that has a strong focus on usability, understanding who that power user is on the other side, and almost building a 'consumer like' experience for a B2B or enterprise level software will work wonders," could help startups in construction tech succeed.
However, when it comes to either adoption or investment, for companies like Related and Suffolk, it's about the relationship between the startup and their organization.  
"We prefer to have a relationship beforehand," said Jit Kee Chin of Suffolk Construction.  
Similar to the  same way an institutional VC's would have relationships with a network of entrepreneurs in the ecosystem, companies like Suffolk develop relationships with companies that could help solve challenges.  
"At the right time we introduce pilots because we recognize, for investment, sometimes the product is still too early," added Chin. 
"We would not invest if we weren't a customer," said to Greg Gushee of Related Companies.  
Additionally, when selling into companies like Related, Gushee added the importance of persistence, patients, and pilotes.  "We are very pilot driven, so propose a pilot structure right away."
In terms of market activity, the panel seemingly agreed on several opportunities and overall growth of the market, while sharing their thoughts on technology that is still too early.
"The interesting thing that I'm seeing coming out of institutional VC firms is that  there are a lot of tried and true models that are being applied to the construction tech space, said Cho.  "I'm excited about a lot of these tools that are really accelerating the collection and usage of data."
The future evolution of data ultimately will lead to automation of many processes, however some on the panel believe that automation may not apply to all sector of construction tech.
"I think we're definitely early. I might say we're a bit too early," said Chin.  "It feels that a lot of the automation out there requires very precise operating conditions and if any one of those operating conditions are off or not present, it doesn't work."
In terms of technology that mature, the panel unanimously agreed on vision technology.
"I do think that the drones, computer vision, lidar…that technology is ripe, it's almost there," said Gushee. 
And according to Gushee, the advancements of vision technology combined with AI, BIM models, "that's ripe. That's about to happen." 
Overall, the time may have arrived for innovation in the construction industry, according to the panel. Many of today's must-have technologies have been lead by a myriad of scenarios, however adoption may ultimately come down to two factors, pain and price. While we may still be in early innings of constructions digital transformation, leading technologies have begun to emerge and the construction industry is ready to adopt.