In Case You Missed it, read the highlights from CREtech Talks: Landlords & Brokerages Thoughts on Tech Post Pandemic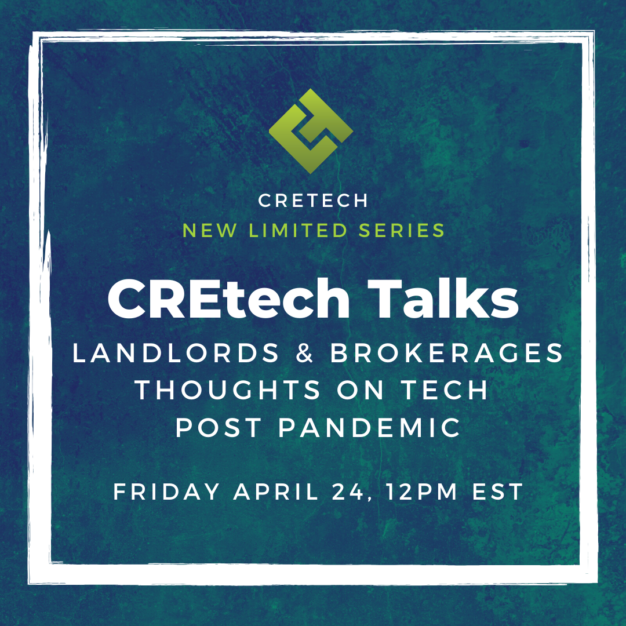 The global real estate industry has been adjusting to a new normal of how buildings of the future will be managed, leased, and operated. From multifamily and office to hotels and retail properties, the recent global pandemic has put a strain on nearly all building owners, occupiers, and residents. 
In a recent CREtech Talks: Landlords & Brokerages Thoughts on Tech Post Pandemic, featuring Chandra Dhandapani of CBRE, Ginny Miller of Jamestown, James Whelan of Boston Properties, Jeff Kok of Mill Creek Residential, and Minta Kay of Goodwin, the conversation was clearly pointing to a real estate market operating in a new environment — one that will continue to evolve.
"Globally it seems like everyone is talking about three phases; response, re-entry and recovery," Chandra Dhandapani.  
While many owners are dealing with a response to the pandemic, the re-entry and recovery may be the most challenging, especially as it relates to local and federal government regulations, health trends, and benchmarking with peer companies.  
As it relates to technology and real estate, "the technology world and the real estate world had notoriously had incongruencies in how quickly they moved and how they think about the length of a timeline…" said Ginny Miller.
"Many of us have been on this journey for the past couple of years centered on a cloud-first strategy and adopting process automation through SaaS offerings,"  said James Whalen.  
But as owners and brokers respond to the current pandemic, we're reminded that "the biggest thing that we can do from a technology perspective is to not rush..." said Chandra.
While the evolution of the built world is inevitable, it seems that the post-COVID world will be heavily influenced by innovation and technology. For owners, technology, especially as it relates to cost savings and cost avoidance, will be top of mind.
According to Jeff Kok, some of the key strategies are focused on self touring and artificial intelligence around leasing. 
Some early trends are beginning to emerge, and soon there will be a longer-term impact, more fundamental shifts in strategy, process and of course operations.
In terms of what's next, health and wellness, as it relates to the environment and tenant experience, was a major point of conversation.  
While there are currently no building standards on how to operate real estate in a post-COVID world, owners are looking to set their own internal building standards validated by third-party experts.
Throughout the digital live event, several surveys were administered to thousands of attendees.  According to respondents, 59% believe that retail assets will be the asset class impacted the most by COVID-19, followed by hotels/hospitality properties
While it's still early innings in what could be a significant economic downturn, an area of opportunity that attendees of the digital live event think that Health & Wellness technology (45%) will be the most impactful in real estate, followed by Smart Building-IoT technology (33%).