More Than 2,000 Industry Professionals, from over 1,000 companies and 35 Countries, Attend CREtech New York 2019 at Brooklyn Navy Yard's Dock 72
CREtech Returned to New York for 7th Annual NYC Event With Record Setting Attendance for The Premier Commercial Real Estate Tech Conference of 2019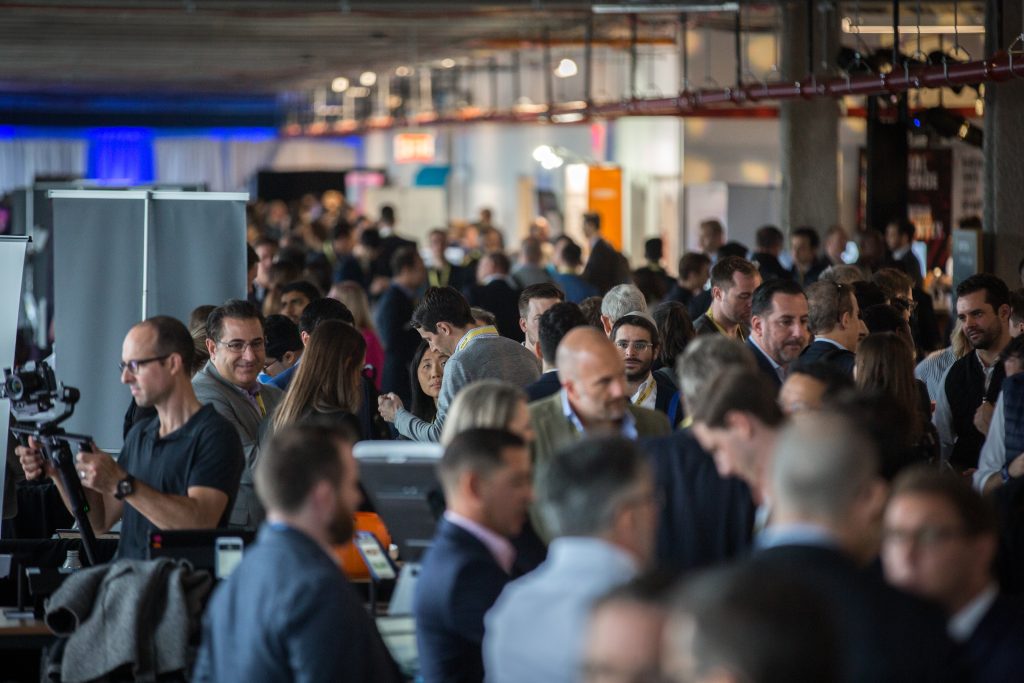 New York, NY (October 24, 2019) — CREtech (cretech.com), the leading event, content and connectivity platform for the commercial real estate technology industry returned to NYC on October 16th and 17th for the most influential commercial real estate tech conference of 2019. 
The two-day conference was held at Rudin Development and Boston Properties recently-opened Dock 72 in Brooklyn Navy Yard. Featuring presentations, panel discussions and demos from today's leaders in real estate, technology, PropTech, venture capital and finance, the event was a rousing success. Over 2,000 individuals attended the conference, making it a defining event in the history of the commercial real estate tech's industry. Attendees used CREtech's professional matchmaking app to set up 12,000 networking connections.
During the conference, attendees heard from leading experts in the real estate, tech, and venture capital industries on how the digitalization of the real estate industry continues to drive innovation for and impact commercial and residential real estate owners, developers, brokers, property managers, tenants, landlords and startups. The speakers, exhibitors and attendees interacted against a breathtaking backdrop of the Manhattan and Brooklyn skyline, in a newly-unveiled, never-before-used events space on Dock 72's 10th floor
"Our CREtech New York show was a record-setting event not just for our company, but more importantly, for our young industry," said Michael Beckerman, CEO, CREtech. "And while the size of the audience has doubled since our last conference, it's really much more about the quality and diversity of the people that come from around the world to CREtech that has me so excited about where we are as an industry today," Beckerman concluded.
The conference's 65+ speakers hailed from global brokerage firms, major development companies, venture firms and leading startups that included Rudin Management Company, SVP, Michael Rudin, Fifth Wall Ventures Co-Founders Brad Greiwe and Brendan Wallace, JLL Spark Co-CEOs Mihir Shah and Yishai Lerner, Tishman Speyer Managing Director Jenny Wong, AvalonBay Communities Corporate Initiatives SVP Karen Hollinger, Prologis Ventures Managing Partner Will O'Donnell and Related Hudson Yards CTO Kenneth Finnegan and Chief Digital Officer Scott Evans, among others. During the event, attendees used CREtech's professional matchmaking app to set up 12,000 networking connections.
CRETECH NEW YORK DAY 1
Keynote Stage Emcee: Mark Grinis, Global Real Estate, Hospitality & Construction Leader, EY
Innovation Stage Emcee: Ash Zandieh, Chief Information Officer, CREtech
Morning Sessions
The CREtech New York Conference kicked-off with the Presentation of CREtech and EY research, where Mark Grinis of EY and Michael Beckerman of CREtech announced the exclusive research report on venture capital trends in proptech.
Following was Welcome to Brooklyn and Dock 72, presented by Michael Rudin, Senior Vice President of Rudin Management Company, where he gave an overview of the groundbreaking development of Dock 72 and highlights of Rudin Ventures. 
The first Innovation Stage session of the day was How AI is Creating Property Value Today, led by Louis Schotsky, Partner, Navitas Capital. Panelists included Minna Song, Co-Founder and CEO, MeetElise; Tom Arnold, CEO, Gridium; and Damien Leostic, Vice President, Product Management, Matterport. The 4 portfolio companies shared their experiences of utilizing AI to create value for customers.
Next, An Owner's Perspective on Tech, presented by Owen D. Thomas, Chief Executive Officer, Boston Properties, where he highlighted Boston Properties' tech initiatives and overall innovation strategy.
The final morning session on the Innovation Stage was Data...Data...Data… led by Mollie Fadule, Founder/Partner, Cephas Partners. Panelists included Connell McGill, Co-Founder and CEO, Enertiv; Taylor Odegard, CIO, Founder, NavigatorCRE; and Kevin Shtofman, COO, NavigatorCRE. These 4 data gurus explained how today's tech companies help their clients use data to achieve better ROI and outperform the market.
Following was From Startup to Scaleup: How to Accelerate Growth with the Colliers Proptech Accelerator powered by Techstars, presented by Ben Liao, Managing Director, Colliers Proptech Accelerator Powered by Techstars. With the recent influx of technology startups and venture capital, Ben provided guidance on how the real estate industry should respond to this.
Convincing The Skeptics – The Great PropTech Debate was the final morning session on the Keynote Stage. Peter Grant, Deputy Editor, Real Estate at The Wall Street Journal moderated the Keynote Session featuring JLL Technologies Co-CEOs Mihir Shah and Yishai Lerner. The discussion explored how the industry is moving forward, where it's falling short, and whether the hype is warranted.
Afternoon Sessions
The first afternoon session of Day 1 kicked off with Meet the Hottest New Tech Companies of 2019, featuring the founders and leaders of NAR's inaugural REACH Commercial Accelerator. Led by Bob Gillespie, Executive Director, REACH Commercial Accelerator. Panelists included Rodes Ponzer, Chief Marketing Officer, CoeoSpace; Jorge Aguilar, CEO, Trove; Brian Thompson, Co-Founder, CEO, CRE Simple; Anja Bump, Founder & CEO, Twofold; Patrick Frank, Head of Sales, Biproxi; and Colleen Werner, Founder & CEO, LulaFit. These visionaries provided an overview of their unique platforms and a sneak peek at future innovation in multifamily housing, vacation rental, lending, listing, smart office planning, and transaction management.
Karen Hollinger, SVP, Strategic Initiatives, AvalonBay Communities kicked off the Day 1 afternoon Keynote Stage for I'll Tell you What I Want, What I Really, Really Want: Ideas for Multifamily VC Investment. Attendees heard from a leading Multifamily expert using a rapid-fire, colorful approach to the business problems that they wish venture capital and startups would solve.
Next up was An In-depth Look at the Tech Behind the Largest New Urban Development in the World, an extraordinary discussion led by Steve Weikal, Head of Industry Relations, MIT Center for Real Estate and the lead tech executives behind Hudson Yards in New York, Kenneth Finnegan, CTO & Managing Director of Technology, Related Hudson Yard and Scott Evans, Chief Digital Officer, Related Hudson Yards. They discussed how technology has shaped Hudson Yards into one of the most globally sophisticated and innovative mixed-use projects ever constructed.
Following was PropTech Without Purpose, Don't Buy It where attendees joined Chase Garbarino, Co-Founder, CEO, HqO as he called out the misalignments that can drive stress in the relationship between PropTech and CRE owners, and create disconnected experiences for building occupants. 
Next on the Keynote Stage, Bringing Families to the Forefront of Urban Housing with Kin, featuring Jenny Wong, Managing Director, Tishman Speyer and Britt Zaffir, CEO, Kin. Attendees heard how an iconic global real estate company and leading start-up came together to prioritize community, design, and technology to revolutionize city living for families.
The last Innovation Stage session of Day 1 was How to Run a Technology Pilot and Win (or Lose). Eric Wittman, Chief Growth Officer, JLL Spark, led a discussion with PropTech startup CEOs and CRE industry veterans on the lessons learned from running pilots -- good and bad. Panelists included Elizabeth Ringbom, CRX, CSM, Senior Vice President, JLL; Elo Ofodile
Head of Business Development, VergeSense; and Omri Stern, CEO & Founder, Jones. 
The final session of Day 1 was Prologis Ventures: Changing An Industry. In this in-depth session, Prologis Ventures' leading tech executive, Will O'Donnell, and one of the industry's long-time thought leaders, Geoffrey Kasselman, SIOR, LEED AP, CEO, Op2mize Energy, LLC, discussed how Prologis is leading the way in bringing tech to commercial real estate. 
Following the conclusion of Day 1 sessions was over 2 hours of networking & exhibiting at our where attendees experienced unmatched networking opportunities with 2,000+ industry professionals and thought-leaders, while dozens of the leading startups displayed their leading-edge products and services. Thank you to our reception sponsor & host, Top Tenant Powered by Buxton. 
CRETECH NEW YORK DAY 2
Keynote Stage Emcee: Paige Pitcher, Innovation, Hines 
Innovation Stage Emcee: KP Reddy, Founder, Shadow Ventures 
Morning Sessions
Day 2 of the CREtech New York Conference kicked off with EQ Office President & CEO Lisa Picard's presentation Building Value with CRE's New Power Tools, where she addressed CRE's opportunities and challenges in implementing technologies and applying innovations to a legacy industry. Following Lisa's Keynote, she was interviewed on stage by Riggs Kubiak, SVP, Owner Strategy, Procore for Owners. 
Kicking off Day 2 on the Innovation Stage was Emcee KP Reddy, Founder, Shadow Ventures for PropTech 2.0. To become a true category of investment and technology, what needs to happen next? KP enlightened the crowd.
Following was Bridging the Gap between CRE and Tech presented by Maureen Waters
President, Ten-X Commercial. The audience joined Maureen for an informative and fun session on ways to bridge the gap (both internally and externally) between "CRE" and "tech" to build a successful CRE Tech company.
Next, Piers MacNaughton, Director of Health Strategy, View, presented the session How to Adapt to Today's People-Centered Real Estate Market, where attendees learned how developers, investors and brokers can adapt to today's people-centered real estate market and stay competitive.
Next, Brad Greiwe and Brendan Wallace of Fifth Wall Ventures gave the unprecedented presentation, The Evolution of Fifth Wall: Venture Funds & Powering Corporate Venture Investment Programs, where attendees learned from the Co-Founders and Managing Partners of the largest devoted real estate VC, with over $1 billion of assets under management, how they see the future of the CRETech sector taking shape, where the next unicorn is likely to come from and the ultimate impact that tech will have on the entire BuiltWorld.
Next, The Accelerating Adoption of PropTech: How Can Real Estate Companies Apply Advancements in Technology to Improve Their Bottom Line?, led by Jake Edens
SVP, Technology and Innovation | USA, Colliers International. Panelists included Ben Wright
Founder and CEO, Upsuite Corp.; David Wong, Co-Founder & CEO, BOOQED Limited; Clinton Robinson, CEO, Lane; and Ben Liao, Managing Director, Colliers Proptech Accelerator Powered by Techstars. 
Next, Andrea Jang, Head of Growth, Americas, JLL Spark, presented the #RETAS Pitch Competition Sponsored by JLL Spark. The 2019 #RETAS Grand Prize Finalists were invited to participate in the Pitch Competition at the CREtech New York conference. The finalists included Funnel by Nestio for Property Search & Marketing, Cherre for Information & Intelligence, Building Engines for Property Management, and Lyric for Asset Utilization.
Congratulations to the Grand Prize Winner of the #RETAS Pitch Competition: CHERRE
Next, Truss' Vice President of Operations, Vanessa Anderson presented What Do Tenants Really Want? A Lot, where attendees learned insights seen from the 15,000 actual tenants using the Truss platform. What trends and amenities will really attract your next tenants.
Afternoon Sessions
Following was the final Innovation Stage session of CREtech New York, Innovation in CRE Tech is Now. Are You Living in the Past, Present, or Future? A guide to corporate innovation and real estate technology through the lens of the largest corporate innovation platform in the world featuring Kia Nejatian, Senior Associate, Plug and Play Ventures, and MJ Cootsona
Co-Director, Real Estate & Construction Tech, Plug and Play Ventures. 
Next on the Keynote Stage, Sudeep Doshi, Associate Partner, McKinsey & Company presented Big Data and Advanced Analytics in Real Estate: Beyond The Buzz. 
Following was Perspectives from Every Angle presented by Dave Eisenberg, Partner, Zigg Capital. Lessons learned and insights on the future of the CRE tech sector from a former angel investor (Matterport, Procore, Warby Parker, et al.), startup employee (Bonobos, TellApart), Founder (Floored), CRE Executive (CBRE) who is now managing a new $100m+ PropTech VC called Zigg Capital.
The final Keynote Stage & Conference session was New Perspectives on Venture Capital, where attendees heard from a group of leading global investors as they graced the stage of CREtech for the first time and revealed their unique investment strategies. The session was led by Minta Kay, Partner & Chair of Global Real Estate Industry Group, Goodwin. Panelists included Arnie Sriaskandarajah, Partner, Round Hill Ventures; Michael Yang, Managing Partner, OMERS Ventures; Seth Rosenberg, Investor, Greylock Partners; Nicole LeBlanc, Director of Investments & Partnerships at Sidewalk Labs; and David Weiden, Partner, Khosla Ventures
The CREtech team would like to thank all of the speakers, sponsors, exhibitors and attendees for making the event as amazing as it was and for everyone's continuous support of the CREtech movement. 
A very special thank you to our registration sponsor EY and our hospitality sponsors; Top Tenant Powered by Buxton, Goodwin, and The Landis Group.
Full panel videos and photos will be available on CREtech soon. 
About CREtech
CREtech is the premier media and consulting company in the world servicing the greater real estate and technology community. Our mission at CREtech is to connect the real estate and tech sectors by hosting the largest and most engaging conferences, publishing in-depth industry research and content.
CREtech is owned and operated by The News Funnel, the leading content, connectivity and event platform devoted to the commercial real estate industry.
Subscribe to receive industry news. To learn more about becoming a sponsor, a list of upcoming events and other exciting news, please click here or email anne@cretech.com.