Nick Romito, CEO, VTS, to Interview Penny Pritzker On Stage At CREtech Los Angeles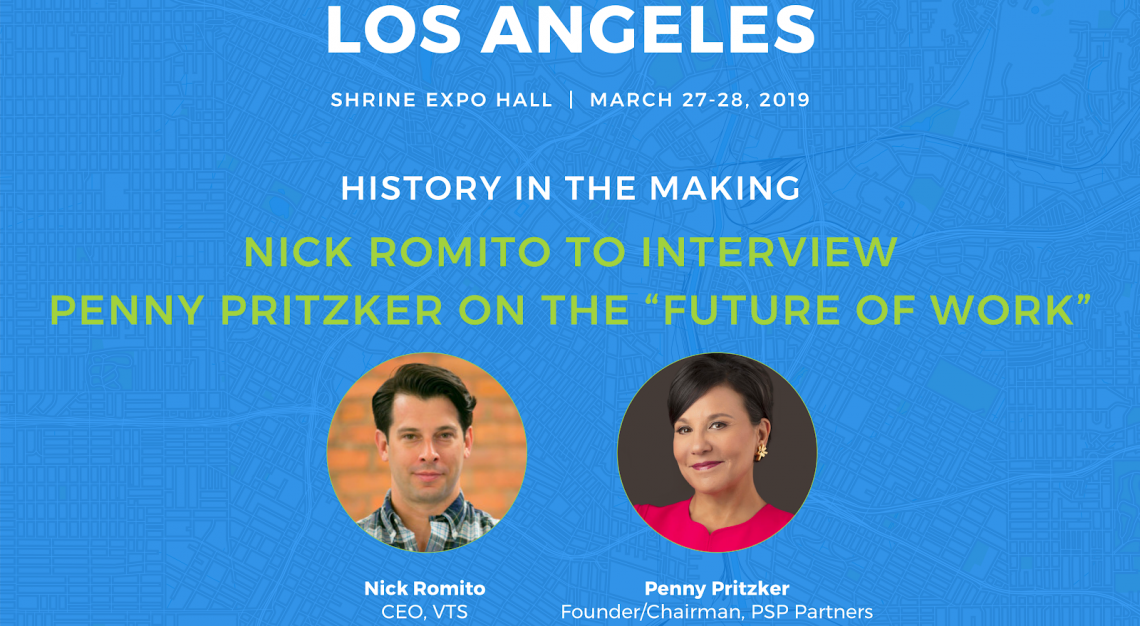 Leader of Fast Growing Startup Will Conduct Q and A With One Of The World's Leading  Business Leaders, Philanthropist and Investor
Los Angeles, CA (March 8, 2019) — CREtech (cretech.com), the largest event, data and content platform covering the commercial real estate tech industry, has announced that Nick Romito, CEO, VTS, will interview Penny Pritzker, former U.S. Commerce Secretary under President Obama, and Founder/Chairman of PSP Partners, at the upcoming CREtech conference in Los Angeles on March 27-28 about the "Future Of Work" and how technology is impacting the real estate sector.
Penny Pritzker is the Founder and Chairman of PSP Partners, a global private investment firm with strategies focused on established businesses (PSP Capital Partners), emerging/growth companies (PSP Growth), real assets (Pritzker Realty Group) and funds/partnership opportunities.
"It is an incredible honor to have the opportunity to interview Penny Pritzker and I'm really looking forward to it," stated Nick Romito, Co-founder and CEO, VTS. "Her perspective on the rapidly transforming commercial real estate sector is completely unique. Every listener is sure to walk away from this session armed with valuable, actionable learnings they can leverage in the months and years ahead," Romito continued.
Michael Beckerman, CEO, CREtech, commented, "When we were looking for someone to interview the Honorable Penny Pritzker, our Keynote speaker for this extraordinary L.A. event, Nick was my first choice. Not only has he built one of the most successful startups in the entire commercial real estate tech ecosystem, but he is widely respected for his thought-leadership, deep insights into the commercial real estate tech sector and his engaging personality. Clearly I am a huge fan of Nick's and this interview with Ms. Pritzker will be unlike anything ever seen before in our young industry."
Nick Romito is the Co-founder and Chief Executive Officer of VTS. The company is the commercial real estate industry's leading leasing and asset management platform. Landlords use VTS to maximize portfolio performance by transforming their leasing and asset management process and unlocking real-time insights – enabling them to convert leads to leases 41% faster and build informed, data-led asset management strategies. Brokers can manage their deal pipeline and get tenants into empty spaces faster, collaborate across teams, and work easily with their landlord clients using VTS for Brokers.
The VTS platform manages 10 billion square feet and a user base exceeding 34,000, and boasts an impressive client roster that includes top names such as Beacon Capital, Blackstone, LaSalle Investment Management, Hines, Boston Properties, JLL and CBRE. One in every three commercial office buildings in the US is managed using VTS.
Over two days, the hottest startups, entrepreneurs, investors and commercial real estate professionals from around the world will attend the CREtech Los Angeles Conference at the historic Shrine Expo Hall. All of the major tech trends in office, industrial, retail and multifamily including CoWorking, Data, A.I., ConTech and more will be discussed by those leading the tech revolution in commercial real estate.
Attendees will have the opportunity to set up one-to-one meetings during our speed dating breaks, hear from the most sought-after thought leaders and meet the leading startups, investors, developers/owners and brokers, not to mention have a great time during our evening receptions.
To purchase tickets, click here.
About CREtech
CREtech is the largest event, data and content platform in the commercial real estate tech industry. The platform features the most well attended conferences in the industry, hand selected daily news, the largest directory of tech startups serving the industry and respected market research.
CREtech is owned and operated by The News Funnel, the leading content, connectivity and event platform devoted to the commercial real estate industry.
Get tickets to an upcoming CREtech event or learn more about marketing and sponsorship opportunities by emailing anne@cretech.com.