Over 1,000 Professionals Attend CREtech New York Venture Conference on December 6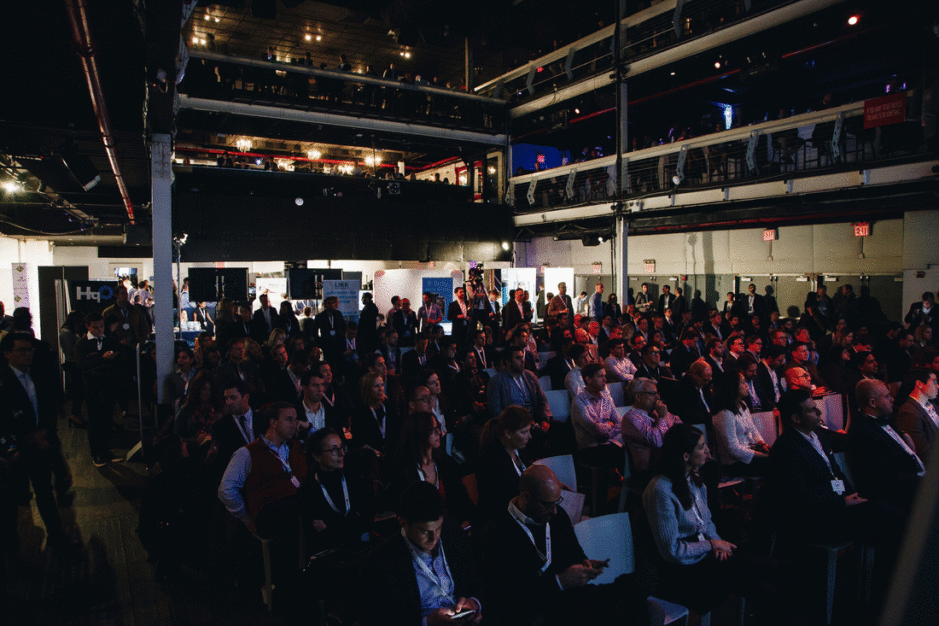 CREtech Returned To New York For 6th Annual NYC Event With Record Setting Attendance Event Focused On Venture Investing
New York, NY (December 7, 2018) — CREtech (cretech.com), the leading event, content and connectivity platform for the commercial real estate industry returned to New York City on December 6 for the largest gathering of commercial real estate tech investors ever assembled by hosting its "CREtech New York Venture Conference".
Held at Terminal 5 in Hell's Kitchen at one of NYC's most premier music venues, CREtech hosted approximately 1,000 industry professionals at its 6th Annual NYC event.
This was the largest event ever in the commercial real estate tech sector with professionals attending from around the globe. Commercial real estate owners, developers, brokers, property managers, tenants, landlords, startups and more filled the room, in addition to the largest gathering of commercial real estate tech investors ever assembled at one event. With over 30 investors speaking from the leading Angel, Accelerator, Venture Capital, Private Equity, Landlord and Brokerage firms in commercial real estate tech, the event provided an unparalleled view of the most important investment and trends in the rapidly growing CREtech sector.
"Since I personally entered the CREtech sector in 2012, there has been an explosion of startups, innovation and adoption in the sector," stated Michael Beckerman, CEO, CREtech. "And perhaps no other group has fueled this extraordinary growth than the investor community, and this full day event was a showcase of all of the extraordinary investment talent that has converged on the commercial real estate tech sector. The record breaking turnout at our event is a testament to the incredible pace of change in the commercial real estate sector," Beckerman concluded.
The CRETech Venture Conference featured...
Morning Sessions:
The All-Day event kicked off with morning MC, Jeremy Neuer, CBRE Executive Vice President.
The first morning session was The Accelerators Panel: What's Next In CREtech, led by Jonathan Schultz, Co-Founder and Managing Principal, Onyx Equities. Panelists included Andrew Ackerman, Managing Director, DreamIt Ventures; K.P. Reddy, Founder, Shadow Ventures; Michael Baldwin, Senior Associate, Moderne Ventures; and Clelia Peters, Co-Founding Partner at MetaProp and President at Warburg Realty.
Following was the Be On the Side of the Angels: Angel Investors in CREtech Panel led by Geoffrey Kasselman, Executive Managing Director, Newmark Knight Frank. Panelists included Arteen Arabshahi, Principal and Founding Member, Fika Ventures; Travis Connors, Partner, Building Ventures; Kurt Ramirez, General Partner, Nine Four Ventures; Ed Walters, General Partner, Tamarisc Ventures; and Ryan Freedman, General Partner, Corigin Ventures.
Next, Linda Isaacson, Senior VP, Director of Business Intelligence, Data & Analytics, First American Title led the Niche Investors In CREtech Panel which featured Roberto Charvel, Chief Executive Officer, Vander Capital Partners; Brad Dockser, Chief Executive Officer, Green Generation Solutions; Kevin Shtofman, Technology Strategy Lead and Real Estate, Deloitte; Julie Lein, Co-Founder and Managing Partner, Urban Innovation Fund; and Darren Wesemann, Executive Vice President and Chief Innovation Officer, Berkadia.
The Top Brokerages Investing in CREtech Panel was the final morning session, led by Dror Poleg, Owner, Rethinking Real Estate. Panelists included Andrea Jang, Growth Lead, Americas, JLL Spark; Jake Edens, Senior Vice President, Technology and Innovation, Colliers; Raj Bhatti, Chief Information Officer, Newmark Knight Frank; Patrick McGrath, Executive Vice President, Chief Information Officer, Head of Client Technologies, Savills Studley; and Sandy Jacolow, Chief Information Officer, Meridian Capital Group.
Afternoon Sessions:
Our afternoon session MC was performed by CREtech founder and Airbnb Global Portfolio Manager, Pierce Neinken.
The first afternoon panel, Private Equity Firms Taking The Lead In CREtech was led by Heather DaSilva, Lead Global Analyst for Digital/Disruption/Innovation Real Estate Hospitality & Construction, EY. Panelists included JP Van Arsdale, Partner, Glade Brook Capital; Merritt Hummer, Principal, Bain Capital Ventures; Justin Wilson, Investor and Operating Partner, SoftBank; and Rohit Dave, Sr Director, M&A, WeWork.
Followed by the Tech Savvy Landlords Panel, led by Michael Werner, Real Estate Partner, Fried Frank. Panelists included Steve Campbell, Senior Vice President, Prologis Ventures; Kevin Danehy, Global Head of Corporate Development and Executive Vice President, Brookfield; Ryan Salvas, VP Real Estate Tech and Innovation, EQ Office; Matthew Boras, Investor, RXR Realty; and Charlie Kuntz, Innovation Officer, Hines.
Our final session of the day, The Leading Venture Capitalists Talk CREtech Panel, was led by Steve Weikal, Head of Industry Relations, MIT Center for Real Estate. Weikal is recognized as the preeminent authority on all things commercial real estate tech. The all-star panel included Jeffrey Berman, General Partner, Camber Creek; Mark Goldberg, Partner, Index Ventures; Travis Putnam, Co-Founder and Managing Partner, Navitas Capital; John Helm, Partner and Managing Director, Real Estate Technology Ventures; and Brad Greiwe, Co-Founder and Managing Partner, Fifth Wall.
The event concluded with the announcement of the Real Estate Tech Awards (#RETAS) winners, the most prestigious awards to recognize technology companies servicing the commercial real estate industry. The awards were presented by Lindsey Imperatore, CMO, CREtech.
Following the conclusion of panels was over an hour of networking & exhibiting where attendees experienced unmatched networking opportunities with 1,000+ industry professionals and thought-leaders, while dozens of the leading startups displayed their leading-edge products and services.
The CREtech team would like to thank all of the speakers, sponsors, exhibitors and attendees for making the event as amazing as it was and for everyone's continuous support of the CREtech movement.
CREtech also announced the dates for their 2019 events:
Los Angeles: March 28-29

Boston: April 11

New York: October 16-17
Full panel videos and photos will be available on CREtech soon.
About CREtech
Our mission at CREtech is to connect the commercial real estate and tech sectors, bringing a new age of innovation, investment and growth to the industry. The platform features the largest events, most important daily newsletter, largest directory of startups and industry leading research. CREtech additionally provides Advisory Services to startups and commercial real estate developers/brokers.
CREtech is owned and operated by The News Funnel, the leading content, connectivity and event platform devoted to the commercial real estate industry.
To learn more about becoming a sponsor, a list of upcoming events and other exciting news, please click here or email cali@cretech.com.