Penny S. Pritzker To Deliver Keynote At CREtech Los Angeles Event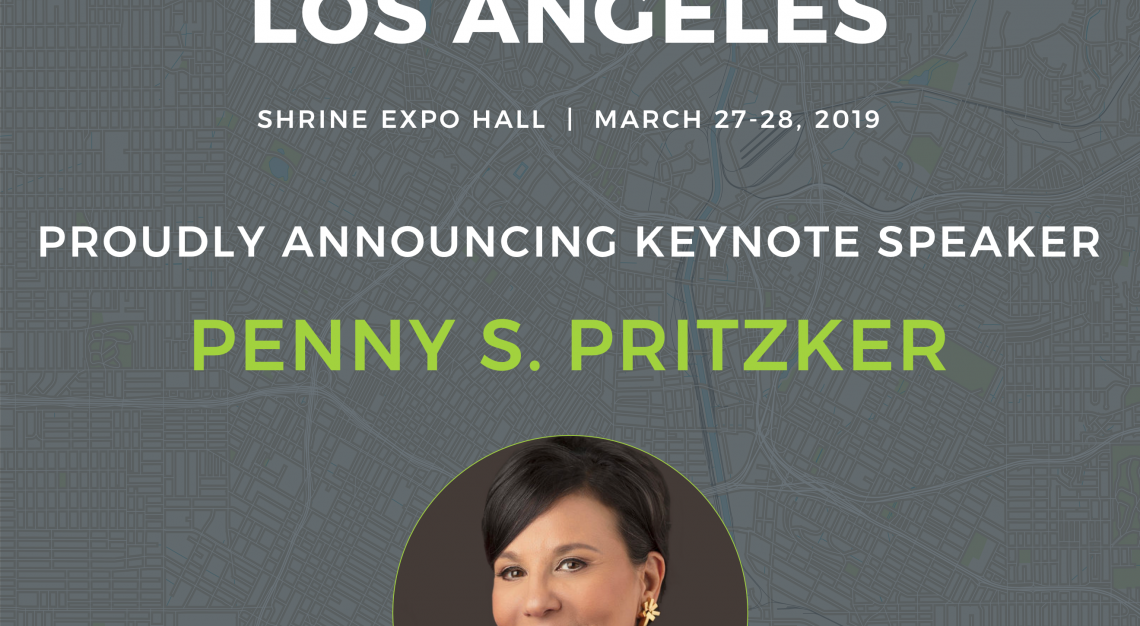 Largest West Coast conference in commercial real estate tech in 2019 coming to Los Angeles March 27 and 28th
New York, NY (February 22, 2019) — CREtech (cretech.com), the largest event, data and content platform covering the commercial real estate tech industry, has announced that Penny Pritzker, former U.S. Commerce Secretary under President Obama, and Founder/Chairman of PSP Partners will deliver the Keynote at the upcoming CREtech conference in Los Angeles on March 27-28. Ms. Pritzker will speak about the "Future Of Work" and how technology is impacting the real estate sector.
Penny Pritzker is the founder and Chairman of PSP Partners, a global private investment firm with strategies focused on established businesses (PSP Capital Partners), emerging/growth companies (PSP Growth), real assets (Pritzker Realty Group) and funds/partnership opportunities.
"Having Penny Pritzker deliver our Keynote for our upcoming CREtech Los Angeles conference is an enormous validation for our young industry," stated Michael Beckerman, CEO, CREtech. "Every day, thousands of us are working hard in the industry to bring a new era of tech innovation to the commercial real estate sector and having Ms. Pritzker join our CREtech movement sends a clear message that we are making important progress in our mission. We are honored and thrilled that she will be joining us in Los Angeles and sharing her insights in tech, the future workplace, and her firm's investment focus as well," Beckerman added.
The Pritzker family has been investors and operators in the real estate industry since the 1940s, including the founding of Hyatt Hotels Corporation. In addition to her role as a former board member of Hyatt, Penny Pritzker also founded Vi Senior Living (formerly known as Classic Residence by Hyatt), and co-founded The Parking Spot and Artemis Real Estate Partners. With her current leadership across Artemis and Pritzker Realty Group, which focus on real estate investments and development, and PSP Growth, which makes direct venture and growth equity investments in technology companies, Ms. Pritzker and her organizations are actively involved with innovation at the intersection of technology and real estate.
Outside of her work in real estate, Ms. Pritzker is an entrepreneur, civic leader, and philanthropist, with more than 25 years of experience in numerous industries. Ms. Pritzker is the former chairman of the board of TransUnion and is a past board member of Wm. Wrigley Jr. Company, Marmon Group, and LaSalle Bank Corporation. Ms. Pritzker is also a member of the board of Microsoft, chairman of the board of trustees of the Carnegie Endowment for International Peace, a member of the Harvard Corporation, Aspen Strategy Group and the Aspen Economic Strategy Group, and a co-chair of the Cyber Readiness Institute. In addition, she was a member of the board of the Council on Foreign Relations, the board of trustees of Stanford University, the Harvard University Board of Overseers and founded Skills for America's Future.
From June 2013 through January 2017, Penny S. Pritzker served as U.S. Secretary of Commerce in the Obama Administration. She also served on President Obama's Council on Jobs and Competitiveness and his Economic Recovery Advisory Board.
Ms. Pritzker earned a Bachelor of Arts degree in economics from Harvard University and a Juris Doctor and Masters of Business Administration from Stanford University. Ms. Pritzker and her husband, Dr. Bryan Traubert, co-founded The Pritzker Traubert Foundation, a private philanthropic foundation that works to foster increased economic opportunity for Chicago's families. To learn more about The Pritzker Traubert Foundation, visit www.ptfound.org.
Over two days, thousands of startups, entrepreneurs, investors and commercial real estate professionals from around the world will attend the CREtech Los Angeles Conference at the historic Shrine Expo Hall. All of the major tech trends in office, industrial, retail and multifamily including CoWorking, Data, A.I., ConTech and more will be discussed by those leading the tech revolution in commercial real estate.
Attendees will have the opportunity to set up one-to-one meetings during our speed dating breaks, hear from the most sought-after thought leaders and meet the leading startups, investors, developers/owners and brokers, not to mention have a great time during our evening receptions.
To purchase tickets, click here.
About CREtech
CREtech is the largest event, data and content platform in the commercial real estate tech industry. The platform features the most well attended conferences in the industry, hand selected daily news, the largest directory of tech startups serving the industry and respected market research.
CREtech is owned and operated by The News Funnel, the leading content, connectivity and event platform devoted to the commercial real estate industry.
Get tickets to an upcoming CREtech event or learn more about marketing and sponsorship opportunities by emailing anne@cretech.com.