Winners Announced for the 2018 Real Estate Tech Awards (#RETAS)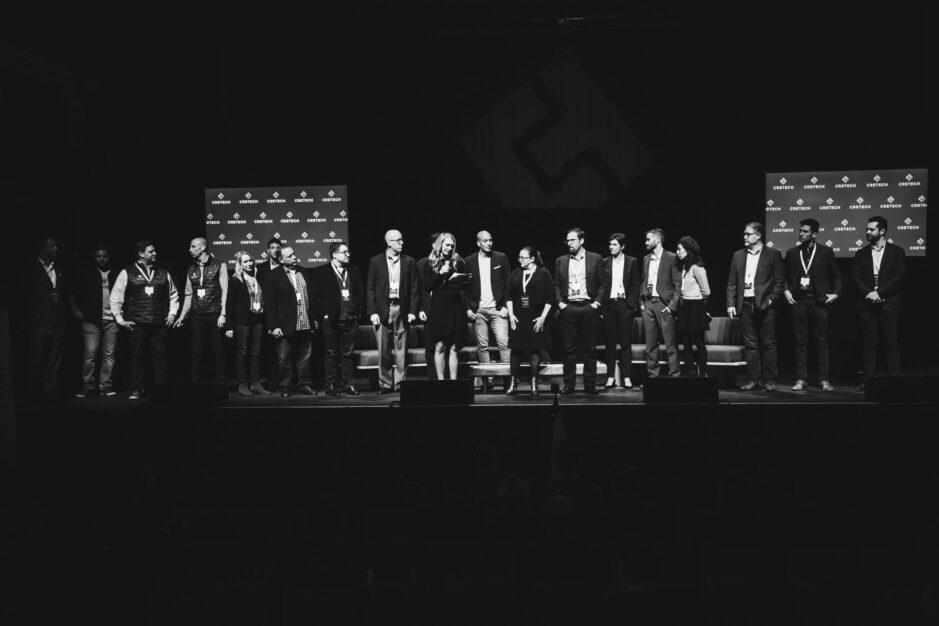 The Most Recognized Award for Industry Startups and Technology Companies
New York, NY (December 10, 2018) — CREtech (cretech.com), the leading event, content and connectivity platform for the commercial real estate industry announced the winners of the 5th Annual Real Estate Tech Awards (#RETAS) at the CREtech New York Venture Conference on December 6. A distinguished group of leading VCs, Investors, industry thought leaders and corporate real estate executives were the judges for this annual awards competition, considered the most coveted in the industry.
The 2018 #RETAS were open to any startup or technology company servicing the commercial real estate industry. The #RETAS are the most prestigious award for tech startups and founders that recognize the most innovative and cutting edge companies who have played an integral role in advancing tech in the real estate industry throughout the year.
After receiving a record number of applications from early-stage and emerging startups, to well established and funded technology companies, the 2018 #RETAS winners are listed below in order of place and category.
Artificial Intelligence
Blockchain
Construction
Coworking/ Pop Up Retail
CRM & Marketing
Crowdfunding & Capital Sourcing
Geospatial & Mapping
Imaging & Virtual Reality
Listing Marketplace
Operations & Administration
Research & Analytics
Smart Buildings
Space Share & Utilization
Tech-Enhanced Brokerage
Transaction & Underwriting
"The enormous growth in our Real Estate Tech Awards is a reflection of the maturity and innovation taking place in the commercial real estate tech sector," stated Lindsey Imperatore, Chief Marketing Officer, CREtech. "Year over year, we have seen transformations happening in this sector and we are so proud to recognize the pioneers with the #RETAS. Special thanks to our elite panel of judges who were critical in determining the best companies in CREtech. The excitement and energy felt during our December 6 event as we announced the winners in front of nearly 1,000 attendees also reflects the rapidly growing number of constituents in our young, emerging sector," Imperatore concluded.
To help select the winners, we recruited the leading VC's Angel Investors, and Corporate Investors in the commercial real estate tech industry to serve as judges for the 2018 #RETAS. Judges Included:
Linda Isaacson

, Senior Vice President, Director of Business Intelligence, Data & Analytics,

First American Title National Commercial Services

Frank Sorrentino

, Chairman & CEO,

ConnectOne Bank

Dror Poleg

, Owner,

Rethinking.RE

Dave Eisenberg

, SVP, Digital Enablement & Technology,

CBRE

David Knowles

, Managing Director,

Stanfield Partners

Elie Finegold

, Real Estate and Technology Entrepreneur,

MetaProp NYC

Rick Haughey

, Vice President, Industry Technology Initiatives,

NMHC

Antony Slumbers

, Strategic Innovation in Real Estate,

antonyslumbers.com

Michael Beckerman

, CEO, CREtech
For more information on the Real Estate Tech Awards and winners, please visit https://www.cretech.com/real-estate-tech-awards.
About CREtech
Our mission at CREtech is to connect the commercial real estate and tech sectors, bringing a new age of innovation, investment and growth to the industry. The platform features the largest events, most important daily newsletter, largest directory of startups and industry leading research. CREtech additionally provides Advisory Services to startups and commercial real estate developers/brokers.
CREtech is owned and operated by The News Funnel, the leading content, connectivity and event platform devoted to the commercial real estate industry.
To learn more about becoming a sponsor, a list of upcoming events and other exciting news, please click here or email cali@cretech.com.