Applications Open for the 10th Annual Real Estate Tech Awards (RETAs)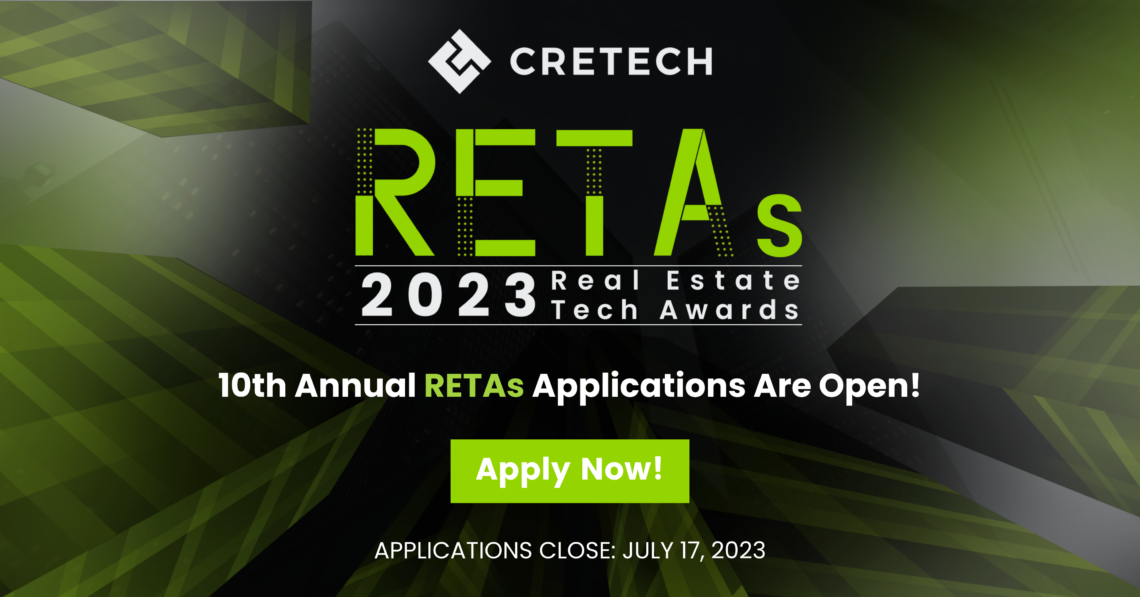 10th Annual Real Estate Tech Awards (RETAs) Recognizes Best-In-Class Technology Providers From Across the Globe


New York, NY (May 17, 2023) — CREtech, the largest international community of professionals devoted to technological and sustainable innovation in the real estate sector, announced today that they are now accepting applications for the 10th Annual Real Estate Tech Awards (RETAs). The RETAs are the leading international award honoring the most innovative and cutting-edge companies who have played an integral role in advancing technology in the real estate industry.

Recognized as the most prestigious award for real estate technology providers, the RETAs provides winners with valuable brand recognition and validation as a leading technology provider supported by CREtech. Applications are open to any technology provider servicing the real estate industry and the deadline to apply is July 17, 2023.

To ensure that organizations are being fairly evaluated, applicants will be asked the same qualifying questions and will be placed into an appropriate category based on their size, revenue and growth to date. Categories include: Emerging Startups, Mid-Market Growth Companies, and Mature Growth Companies. Technology providers across the entire real estate and climate tech ecosystems are encouraged to apply.

There will be three grand prize winners and nine runner ups as well as perks to support and acknowledge all other applicants. Grand prize winners will have the opportunity to host a live demo at CREtech's flagship conference and largest real estate innovation and sustainability event in the world, CREtech New York, this September 19-20, 2023. Additionally, winners will receive brand recognition in front of CREtech's global community of over 130,000+ real estate professionals.

All applicants will immediately receive a 20% discount code for CREtech Clubs after submitting their application, which provides two CREtech event passes for the price of one, unlimited access to CREtech+ video streaming, and more.

This year's lineup of world renowned judges include:
Mikki Ward, SVP, Technology & Innovation, EQ Office

James Pellatt, Director of Innovation, GPE

Daniel Fetner, General Partner, Alpaca VC

Cecilia Li, Chief Information Officer, Urban Edge Properties

Naqash Tahir, Executive Director, Global CIO Office, PGIM Real Estate
RETAs winners from 2022 include:
To learn more and apply for the RETAs, click here. The deadline to apply and be considered for the 2023 Real Estate Tech Awards is July 17, 2023.
About CREtech
CREtech is Reimagining Real Estate. We are the largest international community of professionals devoted to technological innovation in the real estate sector. Our mission is to help the industry embrace, adopt, and future-proof its businesses. Our streaming, live/virtual events, and consulting platform inspires the next generation of ideas, processes, and people to champion the world's largest asset class. Learn more: CREtech.com