Keynote Speakers from PGIM Real Estate and Sway Ventures Added to CREtech London 2023 Lineup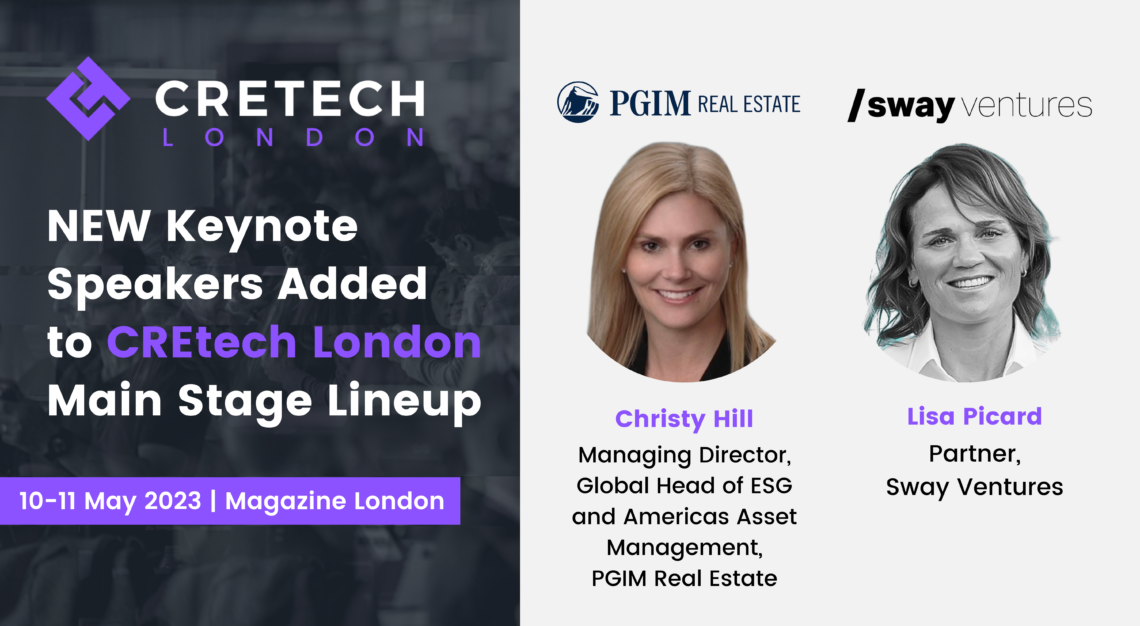 New York, NY (December 6, 2022) — CREtech, the largest international community of professionals devoted to technological innovation in the real estate sector, announced today that Christy Hill, Managing Director, Global Head of ESG and Americas Asset Management, PGIM Real Estate and Lisa Picard, Partner, Sway Ventures will join keynote speaker lineup for Europe's largest real estate technology conference, CREtech London taking place 10-11 May, 2023.

Over 1,500 real estate tech professionals from around the world are expected to attend CREtech London next Spring to network, uncover new investment opportunities, and acquire cutting-edge products and services that are at the forefront of the industry's digital transformation.
Christy Hill is a Managing Director at PGIM Real Estate and the Head of Americas Asset Management. Based in Los Angeles, Christy is responsible for representing the Asset Management function as part of the Americas leadership team and partners with the U.S. and Latin America portfolio teams to lead and implement PGIM Real Estate's asset management strategy for all investments in the region.
Lisa Picard is a Partner at Sway Ventures focused on property technology, and specifically business model innovation transforming the legacy aspects of the real estate industry and property markets. Lisa's +25 year experience in real estate spans nearly every sector developing over $8 Billion in complex ground up projects (i.e. office, multifamily, hotel and mixed use) during her career. Most recently, Lisa was the CEO of Blackstone's office investment platform (EQ Office) leading the 200+ person organization and strategy for a portfolio valued over $27 Billion. Prior to Blackstone, Lisa was the first EVP on the west coast for Skanska Commercial Development opening the office and launching four development deals in five years valued over $3 Billion with hyper successful exits to institutional investors.

The two-day conference will feature exclusive keynote presentations, panel discussions, and demos from the biggest names in the real estate technology industry. Other Keynote Speakers headlining the conference include Simon Carter, CEO, British Land and Melanie Leech, CEO, BPF.

CREtech London attendees will also be able to schedule 1:1 in-person meetings through CREtech's official event matchmaking app in the industry renowned Tech Connect Lounge, and an all-access pass to the expo hall packed with the latest real estate technology solutions.

To secure super early bird tickets and learn more about the event, click here.

To learn more about partnership and sponsorship opportunities, click here.

About CREtech

CREtech is Reimagining Real Estate. We are the largest international community of professionals devoted to technological innovation in the real estate sector. Our mission is to help the industry embrace, adopt, and future-proof its businesses. Our streaming, live/virtual events, and consulting platform inspires the next generation of ideas, processes, and people to champion the world's largest asset class. Learn more: CREtech.com