The Next Wave of Built-World Tech Advancement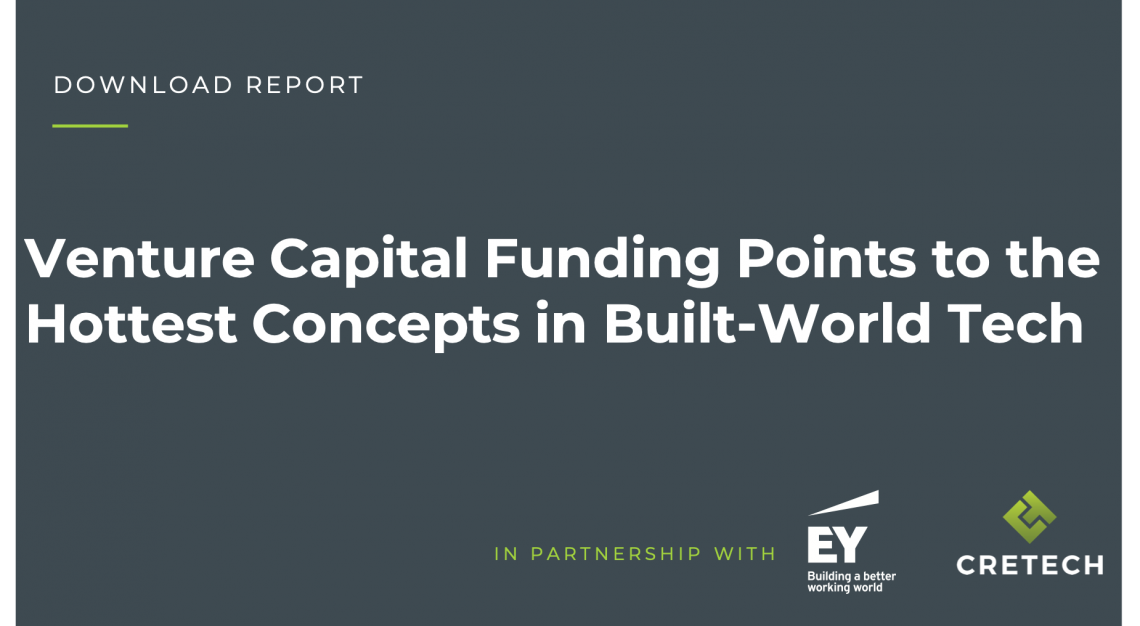 The commercial real estate industry is changing rapidly. Demographic trends, emerging technology, and innovation have already dramatically augmented aspects of CRE that had seemed once seemed inexorably fixed. To provide a never before seen look at venture capital activity in the proptech sector, we joined forces with EY, a Global Leader in assurance, tax, transaction and advisory services, and the marquee Innovator Sponsor of the CREtech 2019/2020 Flagship Event Series.
Together with EY, we created an exclusive research report on the state of Venture Capital Funding in Built-World Innovation—research that assesses the overall state of real estate tech, while delving deep into the investments shaping the future. It offers in-depth insights and funding analysis that paint a detailed picture where CREtech is heading. We shared this research at our New York event, and wanted to provide more color here about the next wave of built-world tech advancement.
Venture Capital Investments in Built-World Tech

Venture Capital Activity: Market Maturity & the Verticals to Watch

Venture Capital Funding Points to the Hottest Concepts in Built-World Tech

Built-World Tech Venture Capital Investment by Vertical

Emerging Trends in Built-World Tech
The digitalization of the real estate industry—paired with the rising entrepreneurial class within real estate—is driving innovation across eight key verticals within the commercial and residential sectors.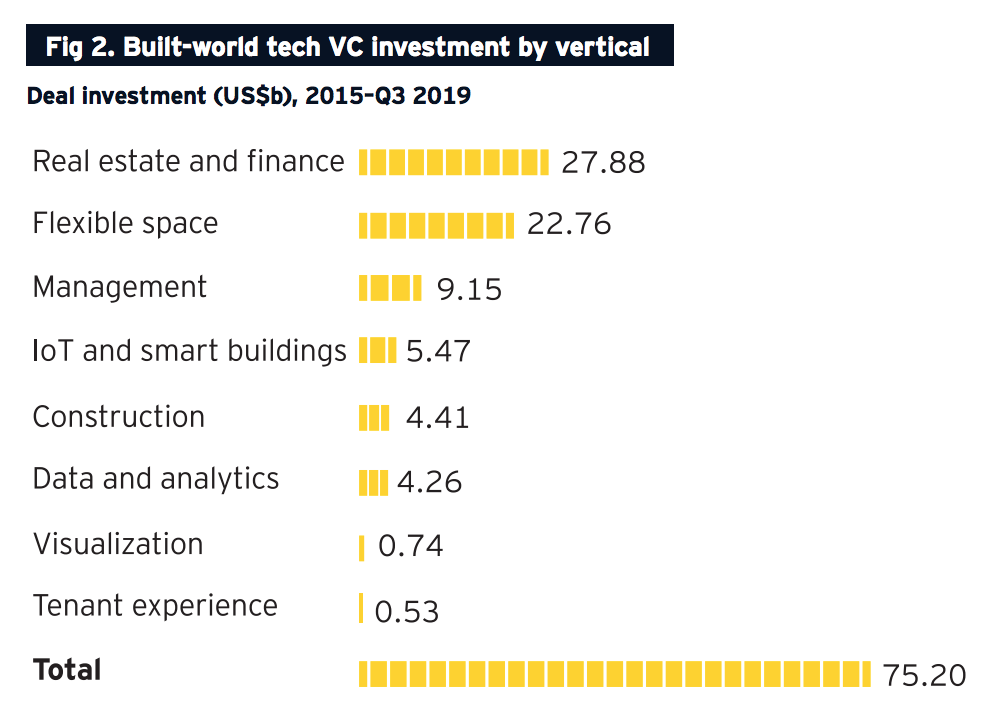 As power shifts to tenants and residents, our research shows which built-world technology verticals have garnered the most VC investments, and how tech within these verticals are becoming key business strategy cornerstones for real estate owners and operators.
Let's look more closely at a few interesting takeaways from the research.
Real Estate and Finance

: As the largest category in proptech today, it still shows some of the most potential for growth despite receiving less attention. This was one of the first segments to garner significant interest and investment, and as a more mature vertical, real estate and finance innovations are now evolving from concept to market share. This means behemoths in the vertical—such as Opendoor, Compass, and Airbnb—have the innovation side in hand and are now shifting to provide returns on VC investment by increasing market sizing.

Flexible Space

: Covering the entire "co-everything" movement, "VC investments in flex-space providers have been among the highest in the industry although, unlike real estate and finance, it has not been distributed evenly throughout the sector, reflected in its skew toward WeWork." This is the epicenter of

the space as a service theme sweeping across the landscape

. While WeWork is facing its share of struggles, the trend isn't waning, even if the business model is in flux. Proptech companies in this space innovate within flexible offices, coworking, co-living, and retail pop-ups, and success and growth within this vertical will only continue because of macroeconomic factors (urbanization), increased flexibility at every level, the inherent value in garnering a higher price per square foot across real estate holdings.

IoT and Smart Buildings: IoT represents the highest barrier-to-entry sector among the eight verticals. That said, investment in this vertical is alive and well. Companies like Silver Peak, Latch, Noon Home, and NavVis have each raised significant VC rounds to the tune of $50 to $250 million.
While adoption is still a challenge across the board, the spark has started. Well entrenched in several key sectors, digitalization of the real estate industry is growing rapidly in others as VC investments pinpoint opportunities to marry customer needs and demands with the potential to streamline processes and profits for owners and operators as well as industry professionals at large.
In all, venture capital activity in the built-world can be defined by two dynamics. On one hand,
it's a marketplace driven by an astounding influx of capital. On the other hand, adoption lags behind the flow of capital. There are three hurdles to adoption: infrastructure; ROI; and the absence of any product that offers a single-source, overarching solution. While these three hurdles are not yet overcome, built-world tech development is still in its early stages. And that's a very hopeful sign for the direction of the next wave of built-world tech advancement—a convergence of the product capability and the needs of the owner or operator.